Best Option for License Renewal Less Than 3 Weeks Out
Best Option for License Renewal Less Than 3 Weeks Out
by
Jayson Lacy
on 02/19/2019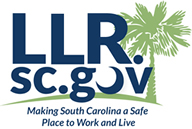 Now that we are within three weeks of the renewal date (March 10), I have been getting a lot of the same question. "When will my hours show up on LLR's website?" I figured it would be best to explain the process of submitting CEU so everyone knows why it does not show up in your LLR account immediately. Once you complete an online CEU, we submit your completion to the University of South Carolina. It could take up to 10 days from the day you completed for USC to process and send your info to LLR. After LLR receives your info, they also have to process your info and upload it into their system for it to show up in your account. The whole process could take three to four weeks (usually less) but if your hours are not showing up in your LLR account, you cannot renew. So, what do you do when you have completed CEU but are not sure as to whether or not your hours will show up in time?
Here's what LLR strongly suggests to avoid going into a reinstatement status:
Submit a paper application by mail and make sure it is postmarked no later than March 9th. Also, include a note that states that you have completed a CEU and let them know the date of completion. This will ensure that you do not go into reinstatement status. Your regular renewal fee will have been received on time, and they will simply wait for your CEU to process with the date that you completed. Once they see that your CEU's were completed before March 10th, you will be good to go with no extra fees.
Here is a link to the paper application: https://www.llr.sc.gov/POL/Cosmetology/forms/2019_Cosmo_Esthet_Nail_Renewal_application.pdf
Print it, fill it out and send it with your payment!!! This is the best way to get the renewal done once there is less than three weeks to the deadline!
Thank you so much for choosing CE Training Courses!!!
-Jayson Lacy