Control Brass, Lift To Blonde, Control Brass!
Control Brass, Lift To Blonde, Control Brass!
by
Jayson Lacy
on 04/29/2022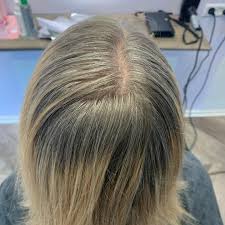 Hey *|FNAME|*!
I wanted to share a quick tip with you that I started doing to keep the brass out of a root touch up on level 5-6 that has a target level of 8 or 9.




In a situation where you have 20-40% gray, and a level 5 or 6 (this pic I found online shows a good example, but encourage your clients to come every 4 weeks!) it can be difficult to lift the new growth to an 8 or 9 without causing tons of brass.
So here's what I do...
I don't worry too much about the necessity to use "N" series to cover the gray. If the gray is course and resistant, I may add a little "N" but if the hair is not unruly, I use none.
Gray hair has a yellow undertone that comes out when it is processed with ammonia. The gray hair will turn blonde enough to camouflage itself. This works best when the new growth is only 4 weeks. You will need to add foils of lightener if it's been 6 or more weeks since their last color service. 
Since blue is the only color in the world that has no warmth, you will need to use a blue base level 9. I use Goldwell and their blue base is the "A" series. You will need a 30 volume developer to get the lift you need.
So...here's the formula:
9A with 30 volume...easy easy! Try it! This is the most effective way to control the brass.


You will need to make sure of what your color line considers a blue base and use that!
Now...if you only want to achieve a level 8, simply use 8A with 30 volume!
Make sure to take a look at the courses below! They are packed FULL of education!
Let me know if you need anything!!
-Jayson Lacy
jayson@ceonlinetraining.com