"Gem" Class
"Gem" Class
by
Jayson Lacy
on 02/23/2015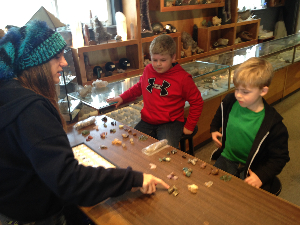 I took the boys to the mountains this past weekend and while we were there we did some gem mining. This is great fun for the children next time you find yourself in the mountains and looking for the next adventure. We found all sorts of types of gems and minerals. Tourmaline was one of the minerals we found. When the gemologists mentioned the name, I instantly thought, "blow dryers".
So here's the deal...if you're not using a high end blow dryer...GET ONE! I investigated what this "tourmaline" mineral was all about. I know that this is old news, but it just reminded me of what I already knew. When you have good tools, you produce better hairstyles. It's just that simple! Our clients look to us as the authority when it comes to their hair. How authoritative do you look when you use a "WALMART BLOW DRYER"? How can we tell our clients to take better care of their hair after we just COOKED their hair with one of these sorry dryers? Talk about hypocritical! I can assure you that investing in a good blow dryer will give your clients shinier, softer and healthier feeling hair when it's dry. 
So here's how you can make more money with this new dryer:
Always educate your client on WHY this dryer is great
Always teach them YOUR blow dry technique
Always have one (or more) on hand to sell
So what is tourmaline? It is a semi-precious mineral that produces a negative ion when heat is applied to it. They crush the mineral and put it inside of the "tourmaline dryers".
What does a negative ion do? It SEALS THE CUTICLE!
What does sealing the cuticle do? It creates SHINY hair and LOCKS IN the moisture content of the hair.
All of this creates HAPPY CLIENTS THAT WANT TO REPRODUCE THIS AT HOME! Then, you have the dryer on hand to sell them, and viola...you just made more money. Now, sell them the brush, shampoo, conditioner, volumizing foam and hair spray to go along with that!
All you have to do is simply TALK! Tell your clients why YOU LOVE IT, and THEY WILL WANT IT! They trust you! Now get to talkin! 
For more on how to really grow your business and get CEU at the same time CLICK HERE.
To read more articles like this one CLICK HERE.